Boosting SGBV Database through partnership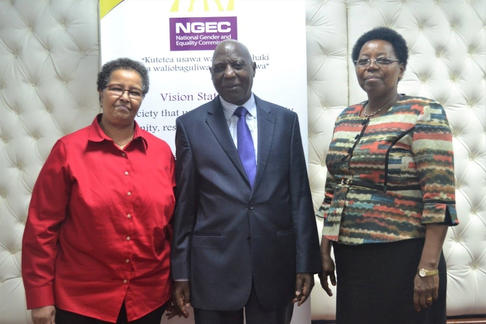 The Commission will partner with Equality Now to expand the database on reported cases of Female Genital Mutilation and Child Marriage in Counties where the organization has presence including Nairobi, Kajiado, Kwale, Busia, and Kisumu. The development came after a meeting between Chairperson Dr. Joyce Mutinda and Equality Now Director, Africa Faiza Jama Mohamed when she paid a courtesy call the Commission.
Through the partnership, the two institutions hope to amplify local voices to regional and international levels and ensure the repeal or amendment of sex discriminatory laws in the promotion of gender equality. The Commission is mandated to establish, consistent with data protection legislation, databases on issues relating to equality and freedom from discrimination for different affected interest groups and produce periodic reports for national, regional and international reporting on progress in the realization of equality and freedom from discrimination for these interest groups
The Commission hosts the Sexual Gender Based Information System (SGBVIS) which collates aggregate data on cases of SGBV reported to five sectors in Health, Education, Police, Prosecution and Judiciary. The sector administrators from each sector upload data from each County in Kenya on a quarterly basis into the system. Various reports can then be generated and viewed by the sectors themselves and the general public.
Equality Now Director, Africa Faiza Jama Mohamed with Vice Chairperson Dr. Chomba Munyi and Chairperson Dr. Joyce Mutinda