NGEC at the sixth annual Devolution Conference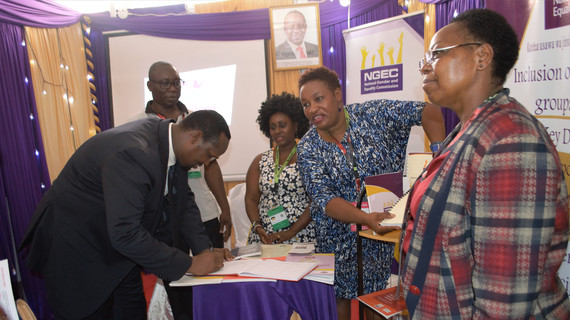 In keeping with tradition, the Commission took part in the 6th Annual Devolution Conference that took place in at Kirinyaga University Grounds in Kirinyaga University
The 2019 conference was a build up from the previous Conference in Kakamega county and presented an opportunity to the Government and its key stakeholders to have discussions on what they have been able to deliver, the lives or the sectors that have been transformed over the last one year and to measure the progress made in the last one year in the Big Four Sectors which are Health, Agriculture, Trade and Manufacturing and Affordable Housing.
During the fifth devolution conference, the Commission was tasked with ensuring mainstreaming of issues special interest groups in planning and implementation of programmes of the Big Four, in the National and County Governments. The Commission enumerated the critical interventions it will undertake to ensure the integration of the principles of equality and inclusion in the big four.
They include development and dissemination of standards on right to health to support county governments reach most vulnerable segment of the population, monitoring the food subsidy and cash transfer under hunger safety net program among informal settlements; inequity and inclusion levels in provision of farm inputs in agricultural sector, auditing and documenting gender and inclusion issues in areas experiencing displacement for flagship capital projects as well as auditing private and public housing schemes to establish extent to which youth, older members of the society, persons with disability and women and urban population benefit from housing scheme.
During the break out session of health, Chairperson Dr. Joyce Mutinda moderated the session with key panelists who included the Governor of Mandera County Ibrahim Ali Roba, UNICEF Country Representative, Mr. Werner Schultink and World Health Organization Country Representative Dr. Rudi Eggers Country Representative
The Commission also got an opportunity to exhibit and disseminate critical publications at the sidelines of the conference. The Commission's booth was among the heavily visited by local and international delegates including Governors from various counties.