NGEC to monitor title deed issuance to ensure women benefit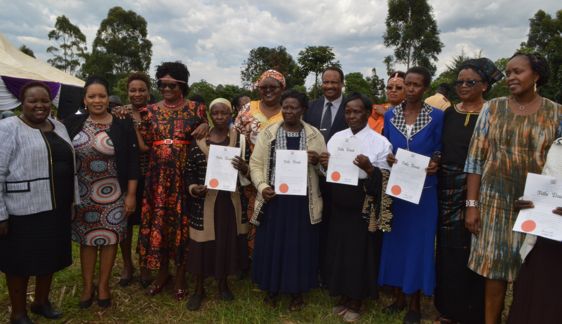 The Commission will continue monitoring implementation of legal provisions, policy frameworks and initiatives that seek to ensure comprehensive integration of the principles of equality and inclusion in the administration of land as well as land rights for women. Commission Secretary Betty Nyabuto has said.
Ms. Nyabuto made the remarks in Cheborgei village, Kericho County during a ceremony to issue six sisters who were awarded a share of their deceased father's estate by the High Court in Kericho in a landmark judgement delivered in 2017.
Nyabuto lauded the Judiciary for the historic judgement saying it affirmed the fact that women, just like men have equal opportunity to inherit land from their deceased parents. In Kipsigis community, women are excluded in the sharing of their parents' estate in succession matters. Each of the beneficiaries got a five-acre piece of land out of the family's 42 acres.
Among the people who attended the ceremony include the Kipsigis, Nandi and Tugen Council of elders Chairpersons who welcomed the move and called for consultations in family land disputes
The principles of land policy as articulated under article 60 of the Constitution of Kenya 2010 include among others equitable access to land, elimination of gender discrimination in law, customs and practices related to land and property and encouragement of communities to settle land disputes through recognized local community initiatives.
Last year, the Kenya Land Alliance released the Title Deed Issuance Audit Report which indicated that out of 10,129,704 hectares of land titled between 2013 and 2017, women got 163,253 hectares representing a paltry 1.62 percent, while men got 9,903,304 hectares representing 97.76 percent.
The Commission secretary thanked the Cabinet Secretary in the Ministry of Lands for intervening in the Kericho sister's case and ensuring that the title deeds were processed and issued. "We urge duty bearers in both the National and County Governments as well as non-State actors to take necessary measures that will guarantee progress for the women of Kenya. We would also like to hear specific concerns from women who have been disenfranchised, disinherited or denied access and control of land for whatever reasons for our action". Said Nyabuto.